My Last First Kiss

Information

Kanji
大人の初恋はじめます
Romaji
Otona no Hatsukoi Hajimemasu
English
The Start of an Adult's First Love
Release Date
March 5, 2015 (JP)
September 1, 2015 (ENG)
Movie
JP
"
Even after all these years, you haven't forgotten about the first guy you loved. After reuniting with him, you try confessing your feelings, but he turns you down. Luckily the friends you grew up with are there to support you...

...but it's not long until you become more than just friends...

"

—Story summary, Voltage Official Website

My Last First Kiss
is an otome game by Voltage Inc. It is available for download on the
App Store
and
Google Play
.
Overview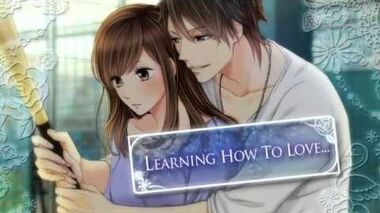 After being away for so long, you return to your childhood town where you meet up with your childhood friends. As all of you are adults, there have been drastic changes amongst them and you. Most notably, your feelings for one of them change into something that is more than just friendship.
Introduction and Relationship Chart
Prologue
The Characters
Main Characters
| | |
| --- | --- |
| | Ayato is a popular up-and-coming actor who's been friends with you since you were children. He's always been by your side, and people tease you both for being so close. |
| | |
| --- | --- |
| | Ichiya is the loner in the group. He insults you a lot and seems very cold, although in some instances he's merely teasing. He does give you advice on occasion... in his own harsh way. |
| | |
| --- | --- |
| | Makoto is the oldest of your circle of friends and Riku's older brother, and he takes on the role of big brother to the whole group. He's harbored a secret crush on you since you were both kids. |
| | |
| --- | --- |
| | Takamune is a professional soccer player that has been part of your group since fifth grade. Despite that, the two of you aren't very close; your friendship exists mostly because each of you are close to Ayato. However, you're the only girl he felt comfortable around in middle school. |
| | |
| --- | --- |
| | Riku is Makoto's younger brother and is a year younger than you. Unbeknownst to the guys, you dated Riku for a while but broke up when you entered high school. |
| | |
| --- | --- |
| | Hiroki is your first love and used to lived in the same apartment complex as you and the other guys. You confessed your feelings for him when you were 18, but he turned you down because you weren't mature enough. Although you have a romanticized view of him as a Prince Charming, Hiroki has a dark side and relates well to Ichiya. |
Minor Characters
Main article: My Last First Kiss Minor Characters
Available Stories
Note: Characters in bold are only available in the Japanese version and have yet to be translated.
Trivia
My Last First Kiss references Scandal in the Spotlight in a few scenes, mentioning sold out REVANCE concerts.
There was a survey (a few months before the game was released overseas) asking what the name of the game should be. The choices were This Time With You, My Last First Kiss and My Love & Best Friend.
Scandal in the Spotlight, My Last First Kiss, and True Love Sweet Lies have CGs where the MC is drawn with eyes in the English versions.
In the Japanese version, a 7-page comic of the characters role-playing Alice in Wonderland was released as a prize of the Japanese General Election 2015. In the comic, the MC is Alice, Ayato is the White Rabbit, Ichiya is the Cheshire Cat, Makoto is the March Hare, Takamune is the Mad Hatter, Riku is the Dormouse, and Hiroki is the "Queen" of Hearts. This comic was later released in the English version as an early bird campaign prize for purchasing the 1-year anniversary special story: "Six Irresistible Brothers".
Ad blocker interference detected!
Wikia is a free-to-use site that makes money from advertising. We have a modified experience for viewers using ad blockers

Wikia is not accessible if you've made further modifications. Remove the custom ad blocker rule(s) and the page will load as expected.