Article Stub!
This article is incomplete. It is either missing information, pictures, sections or all of the above. Feel free to add the missing stuff on this page, as long as it does not contradict the given rules of this wikia.
Under maintenance

This page is undergoing maintenance. Therefore, please do not edit this page until further notice.

Thank you for your understanding.
Irresistible Mistakes

Information

Kanji
あの夜からキミに恋してた
Romaji
Anoyorukara Kimi ni Koishiteta
English
I Fell in Love With you from That Night
Release Date
October 4, 2016 (JP)
March 27, 2017 (ENG)
Movie
JP
"

I should never have done that...

He was a total stranger. I didn't even know his name. But we spent the night together...!

It was just a huge mistake. There could never be anything between us! Or so I thought...

"I want to see you again tonight..."

That simple text from him was just the beginning of an incredible love affair...

"

—Story summary, Voltage Official Website
Irresistible Mistakes is an otome game by Voltage Inc. You have a one-night stand with a man you barely know and end up falling in love with him.
It is available for download on iTunes and Google Play.
Overview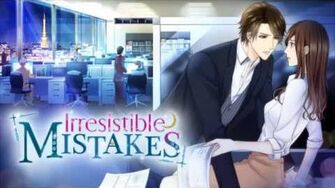 You wake up in a hotel room and quickly learn that you were drunk the previous night and slept with an unknown man. You're not one for one-night stands, but you can't forget the pleasure you experienced.
Introduction and Relationship Chart
Prologue
The Characters
Your boss from the ad agency you work at who's the best of the best and an inspiration for you and your coworkers.
A tough executive for the Accounting Planning department at Addison & Rhodes, who's known as the the Evil Exec.
A gifted copywriter in your company who's aloof and standoffish.
A mysterious man who's a regular that the bar you frequent at that seems to know you, but you have no idea who he is.

A charming young bartender who works at the bar you often go to.
Your childhood friend who works at the Media Buying section at Addison & Rhodes that believes that one-night stands are meaningless.
Minor Characters
Main article: Irresistible Mistakes Minor Characters
Available Stories
Note: Characters in bold are only available in the Japanese version and has yet to be translated.
Trivia
This game is rated over 17 in the English version due to sexual content in the story.
This is the first game where a brief profile of the guys appear during the prologue.

This is also the first game where the MC has a sexual encounter in the prologue.

Irresistible Mistakes, Scandal in the Spotlight, True Love Sweet Lies, and My Last First Kiss have CGs where the MC is drawn with eyes in English Versions. Although, the Japanese version CGs of this game is also drawn with eyes as well.
Despite being one of the newer games, this opening is not voiced.
There are two endings: The Provocative Ending and The Heartfelt Ending.
There was a survey for "The Fans' Top Choice for a One Night Stand" and...

Shunichiro Tachibana came in first.
Taku Hayama came in second.
Toma Kiriya came in third.
Ad blocker interference detected!
Wikia is a free-to-use site that makes money from advertising. We have a modified experience for viewers using ad blockers

Wikia is not accessible if you've made further modifications. Remove the custom ad blocker rule(s) and the page will load as expected.